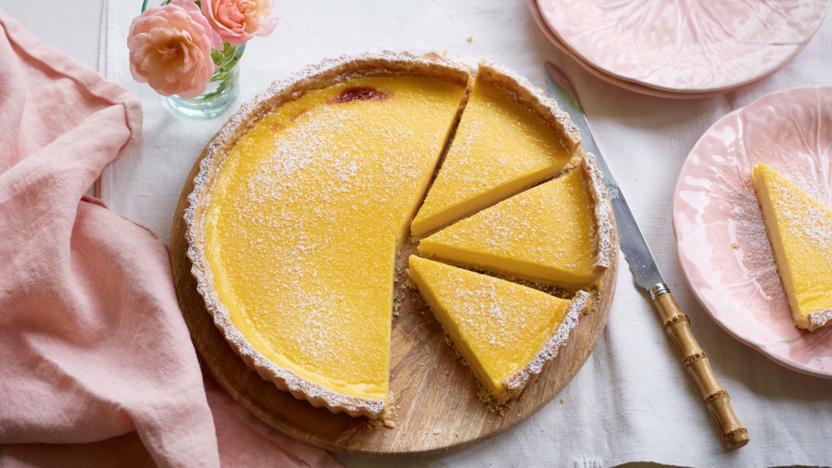 Passion fruit tart with orange pastry
Ingredients
For the orange pastry
For the filling
Method
To make the orange pastry, place the flour, butter, icing sugar and orange zest in a food processor. Blend together until the mixture resembles breadcrumbs. Add the egg and whizz again until the dough comes together to form a ball. Sprinkle a work surface with flour and gently roll out the pastry until it is very thin. Carefully transfer to a deep 23cm/9in loose-bottomed fluted tart tin and line the base and sides. Press into the sides of the fluted edges and level the top. Prick the base with a fork and place in the fridge to chill for at least 30 minutes.

Preheat the oven to 200C/180C Fan/Gas 6.

Line the pastry case with non-stick baking paper and fill with baking beans. Blind bake for about 15 minutes, or until lightly golden at the edges. Remove the paper and beans and return to the oven for a further 5 minutes, until the pastry is crisp and lightly golden.

Reduce the oven temperature to 160C/140C Fan/Gas 3.

To make the filling, sieve the passion fruit pulp into a large bowl, discarding the seeds. Break the eggs into the bowl, then add the orange juice, cream and sugar. Beat well until combined.

Transfer the passion fruit custard into a jug, then pour into the pastry case and carefully slide back into the oven. Bake for 35–40 minutes, until the custard is just set in the middle with a very slight wobble.

Leave to cool to room temperature, dust with a little icing sugar and serve with the cream on the side. If not eating straight away, leave to cool, then place in the fridge to chill.